AJ's Proper Pies
Christmas Family Pies are now available to pre-order
Order by 13th December 
Collection Only from AJs Proper Pies 80 Colne Road
Last Collection 23rd Dec.
(state collection date in comments box)
AJ's Proper Pies HQ located at 80 Colne Road Twickenham TW26QE. (Heavenly Dish)
Thank you for supporting a local business.
Lots of Love AJ. 
_____________________________________________________________________________________________________________________________________________
Supplying my handmade pies online and to a  selection of local pubs, weekend markets and loyal fans from my base in Colne Road Twickenham.

Each week I produce a variety of different flavours. But don't worry if you want to make sure your favourite is always avaialble, you can always freeze them to enjoy at a later date.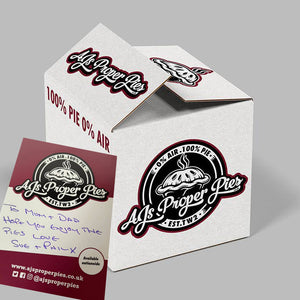 NOW SHIPPING - UK Mainland
It is with great excitement that we can announce that we are now able to ship our pies outside of the the immediate Twickenham area.
We are now able to ship boxes of up to 12 mixed pies (£12 p&p), to anywhere in mainland UK.
If you are sending as a gift, just leave a note in delivery instructions and we'll drop a card in with the pies.
The pies are freshly frozen to your order and shipped in temperature controlled packaging, to ensure they arrive in the best possible condition. For this reason we are unable to ship our cheesecakes or gravies at the moment.
AJ's Proper Pies Online Orders
Sorry No local deliveries in December as I'm too busy making pies.
AJ's Proper Pies Online currently offering FREE delivery to Twickenham and our neighbouring postcodes: TW1, 2 and 11 on orders over £25.
Collection: 80 Colne Road, TW26QE
Shipping: We can now ship boxes of up to 12 frozen pies to anywhere in mainland UK
AJ's Proper Pies are freshly made to order each week. We have a few resident fillings and we rotate others on a weekly basis, with the occasional seasonal filling making an appearance.
HOW TO IDENTIFY YOUR PIE
S = Steak & Ale. SS = Steak & Stilton. SK = Steak & Kidney. B = Beef Bourguignon. MB = Mince Beef & Onion. T = Texan Chili
W = Winter Warmer. CC = Chicken Chorizo. CT = Chicken Curry. C = Chicken & Bacon. CM = Chicken & Mushroom. H = Ham Hock & Chicken. CS = Chicken & Stuffing
P = Pulled Pork & Apple. M = Mushroom Brie & Spinach. Q = Mince Quorn & Onion. QL = Quorn & Leek. V = Vegan Butternut Squash
Holly = Christmas. Holly V = Veggie Christmas
Allergens:
Gluten (unless Gluten Free), Milk, Eggs
AJ's Merchandise is delivered directly to you so please allow a weeks delivery.